• Tulika Bhatnagar • Classicism • Furniture
Parrot & Lily explores classicism, rococo commode with ancient poem of Bacchus & Ariadne.
---
• Tulika Bhatnagar • Decor • Decorative Arts • Furniture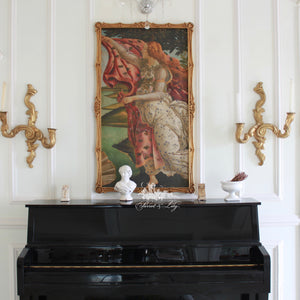 "'But was Narcissus beautiful?' said the pool. 'Who should know that better than you?' answered the Oreads. 'Usdid he ever pass by, but you he sought for, and would lie on yourbanks and look down at you, and in the mirror of your waters hewould mirror his own beauty.' And the pool answered, 'But I loved Narcissus because, as he lay onmy banks and looked down at me, in the mirror of his eyes I sawever my own beauty mirrored.'"  Such has been the power of mirrors since history has been recorded. There has probably never been a more consistent...
---
• Tulika Bhatnagar • Decorative Arts • Furniture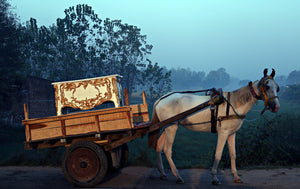 Probably the least considered and thought about piece of furniture until you own one is the Commode. If I just ask you to think of people or places where you've spotted it, I'd expect you to go blank. I hope you're not mixing commode with console tables, because they are two very different pieces, although stunning in their own right.  Commodes could be described as chests of drawers, or consoles with storage that have been made beautiful, but that's as curt as saying that diamond is a beautiful stone.  Although antiquated mostly because of the high value of making one, these...
---
• Tulika Bhatnagar • Furniture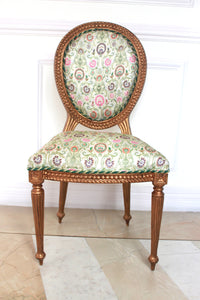 Elegant, dignified & yet chic. Meet the Louis XVI chair. This is the one chair that you can not miss to spot at any opulent setting. With it's delicate frame & turned legs, it's impossible not to fall in love with it. Classic decorators have been tapping on this gorgeous chair for centuries. In today's day & age, these chairs can be spotted in the classiest cafe's like The tea room of Ritz, London, The tea room at The Plaza, New York, The Four Seasons, Paris, and All Dior boutiques... need we say more? The tea room at The Ritz, London...
---
• Tulika Bhatnagar • Furniture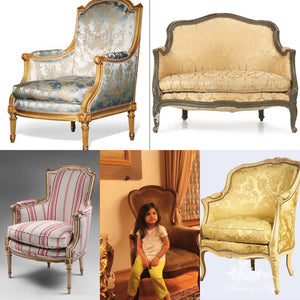 Meet the bergère. I'm sure that everyone has passed by one of these beauties sometime in their life – be it in the lobby of a boutique hotel, a luxurious fitting room at your favorite designer or someone's immaculately done home, and wondered how marvelous and elegant a sofa can be. A classic bergère is all about the beautiful balance between the delicate and the bulky. On one hand, the very elegant and sleek framework is usually visible and masterful carvings leave a dramatically formal impact. On the other hand, the somewhat lofty depth and recline give these pieces...